Welcome to Fairfield House!


Fairfield House offers a rare opportunity to visit a house built by hand in the ten years following the start of Loyalist settlement in Ontario in 1784.

The Fairfield Homestead Heritage Association promotes the preservation of Fairfield House and provides guided tours and heritage programming at the House through an agreement with Loyalist Township, owner of the property.

In 1793 the farmhouse of Loyalists William and Abigail Fairfield was the heart of a growing farm. Today, Fairfield House is eastern Ontario's best preserved 18th century dwelling, distinguished by the survival of many of its original interior features. On guided tours of the house, visitors move from the limestone cellar to the raftered attic.

We look forward to greeting you at Fairfield House and sharing with you the discovery of this valued house and its surroundings. They will link you directly with this township's story of Loyalist settlement.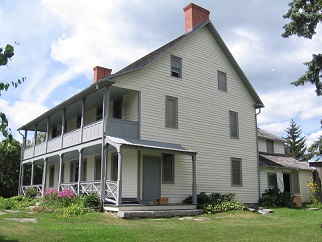 The Fairfield Homestead.
Preserving the Work of Loyalist Builders